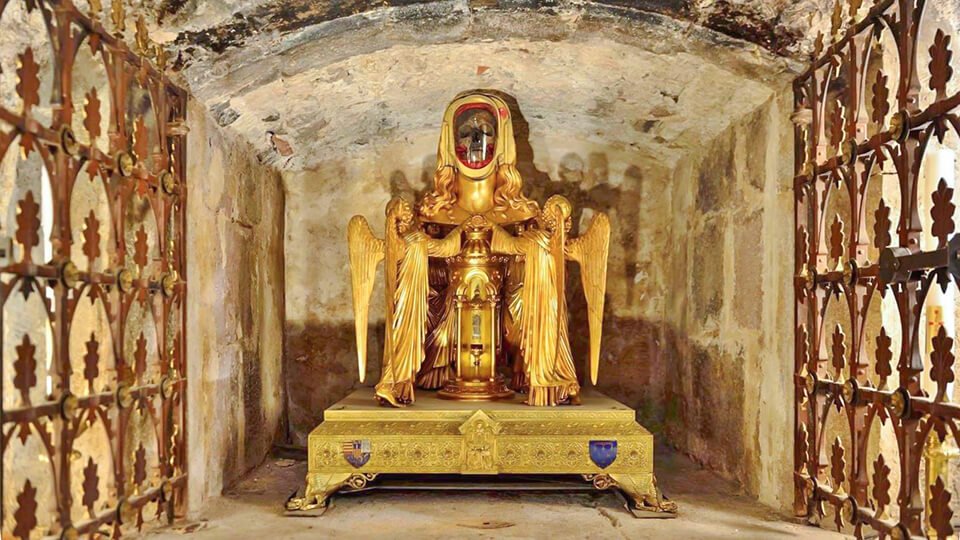 Mary Magdalene's Escape by Sea
Copyright 2021, 2o22 by Joan Berry
Introduction
Originally, parts of this paper appeared in the paper, What You May Not Know about Joseph of Arimathea. However, more information was discovered and was enough for a stand-alone paper on Mary Magdalene. Mary was among 70 passengers on a ship captained by Joseph of Arimathea, Jesus' uncle. They barely escaped being arrested and martyred.
The Voyage
Several historical sources tell that about 37 CE and after Stephen was stoned to death on the order of the Sanhedrin, Joseph and the Apostle Phillip and a group of Jesus' followers escaped by sea by sailing from Phoenicia. They were fortunate because as they set sail, the Sanhedrin ordered any followers arrested to be loaded onto boats without sails and oars and set adrift on the sea. Many were rescued or drifted to small islands.
Those who accompanied Joseph and Phillip used the event as their initial sea-borne missionary journey. According to Maurus (CE 766-850), the followers were: Mary, Martha, Lazarus, and the sisters' maid, Marcella; Eutopus; Mary Salome (Jesus' sister) and her maid, Sara; Mary Cleopos; Saturnus; Mary Magdalene; Maximin, a young ruler; Martral; Traphimus (or Restitus) and others.
The group sailed from the Levant in the Phoenician homeland. At that time Phoenicia bordered Judea. The Phoenicians were masters of the seas and trading routes and had trading posts around the entire Mediterranean Sea, and beyond to South America and the British Isles especially southern England. They established three main trading routes: the shores of the northern sea; the shores of the southern sea; and a route running across the center of the sea to trade with the islands. It was the center route that the group took to Gaul (France) and Marseilles. It was there that Maximinus, Mary Magdalene and Lazarus parted from the group, while Phillip scouted the area for missionary work.
Lazarus became the Bishop of Marseilles, and Maximinus traveled with Mary Magdalene throughout southern France as escort and protector as they carried out missionary work. Maximinus later became the Bishop of Aix-en-Provence. Mary died in 63CE at 72 years of age. When she knew her time was near, she traveled to Aix where the bishop, her friend, took her confession. Her remains reside in the Basilica of Mary Magdalene in Sainte- Maximinus-la-Sainte-Baume. Other countries claim she died in them, but King Charles II found her grave site and built a new tomb. Due to wars and looting, her remains were eventually moved to the basilica with King Charles being informed of the move and why.
Mary Magdalene's remains (relics) are in France at the Shrine of the Basilica of St. Maximin-la-St. Bauma. Charles II, during his reign as King, had a small church built to hold the remains of Mary in its crept. The site was excavated in 1279 CE where her marble sarcophagus was discovered. A tress of dark brown hair was found with her skull. DNA tests in recent years determined that she was Jewish and had Mediterranean ancestry. According to French records, Mary was preaching there as late as 47 CE and was housed in one of the commonly used cave-house communities mainly occupied by widowed and single women.
Regarding her remains (relics), her skull was missing the mandible. However, Pope Boniface VIII recovered it and the skull was completed. That cannot be said about the rest of the skeleton because sections of it were sent as relics to various Roman Catholic churches. One church claims to have one of her hands, another claims to have one of her feet, and so on. Today, some of the bones remain in addition to the skull housed in the enormous Gothic basilica in France. There, the bones such as the tibia are displayed in a glass bulletproof -reliquary. The skull is protected in another bulletproof-glass reliquary where the skull is encased by gold adornments. The skull and tibia are paraded once a year through the city. The statuary of Mary is dressed in the royal colors of blue and red.
Mary Magdalene was not a prostitute
Mary Magdalene was not a prostitute and she was not called a prostitute until the sixth century when Pope Gregory misidentified her in trying to identify a woman who washed and anointed the feet of Jesus. Mary's name is neither mentioned in the text nor the town from which she came. She was always addressed as Mary of Magdalena or Mary Magdalene(a).. The popes are only considered infallible by their church on doctrinal/dogmatic matters. Calling Mary a whore was not something he had a right to do. In 1969, Pope Paul VI effectively repealed and separated Mary Magdalene from this disrespectful slur on her name – over 1400 years after Gregory misidentified her. In Luke 8, she is listed with two other women and all three are considered wealthy and helped fund the ministry of Jesus.
Sources
Berry, J. (2019), Historical & Spiritual Views of the Seven Churches of Revelation & Other Topics of Study.
Britanni. (n.d.) www.britannia/backs/history/abbey.html
Dumond, J. D. (2012). Joseph of Arimathea. www.sightedmoon-archives/josephofarimathea/
Gospel of Nicodemus. (n.d.).
Howell C. & Khler K. (n. d.) Jewish Encyclopedia.
Kraentzler E. F. (1978). History of Richard Plantagenet & Cecily de Neville.
Nag Hammadi Scriptures. (2007), New York, NY: HarperCollins.
New King James Study Bible: Matthew, Mark, Luke, John. (2018). Nashville TN. Thomas Nelson Bibles/
Rabanus Maurus. (CE776-856). Copy of this text exists in Bodleian Library , Oxford University UK
Talmud
Walker A. (Trans). (n.d.) Gospel of Nicodemus.